Additional offer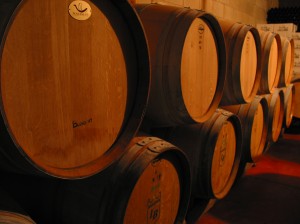 CASA SICILIA WINERY
Casa Sicilia winery has started up its project of wine tourism with the inauguration of a big and comfortable eating room to give gastronomical welcome to the professionals, which are eager for taste previous and futures ageing and to the taste-vin interested in discovering or extending its knowledge in the exciting world of the wine.
Its program, "Between wines and vineyards", was created by its Oenologist and an enthusiastic and professional equipment to offer different alternatives to spend a good part of the day, or the whole day visiting cultures, the winery and other facilities, discovering the secrets of the wine and their methods of elaboration, learning wine tasting and try to explore its characteristics and enjoying the gastronomy of the region.
We can find, within all the wine range of the winery, white wines such as "Azal or Señor de Sirera"; red wines as " Lizana, Heretat de Cesilia and Ad Gaude"; Rosé wine as "Cesilia" and The sweet new version "Aledua and Cardenal Alvarez", in different presentations, next to other exclusive products of quality.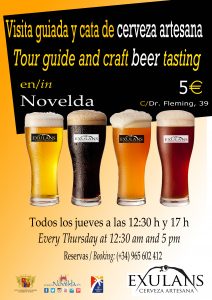 EXULANS BREWERY & TAP ROOM

Exulans was set up as another way to enjoy beer: brewing it.
After several years of brewing, they opened the microbrewery in 2014 with the aim of producing quality beers with own character: IPAs, Pale Ales, Brown, Stouts…
They are passionate about craft beers and their whole aim has always been brewing the kind of beer we like to drink ourselves: without additives or preservatives nor added CO2 and choosing the best malts, hops and yeast.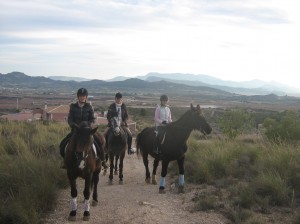 LOS ESTABLOS
We are situated in the country side of Novelda which allows you to enjoy a really quiet enviroment without traffic where you will be able to have long rides between "Sierras"and vineyards. Services offered: *Full livery – We have boxes and paddocks and a big electric paddock. We take it as our responsability to provide every horse with enough space for them to have a fair life at Los Establos. *Riding lessons – Ponies and horses for all levels *Treking *We organize your private parties with a king size BBQ-Buffet and Live music Our Facilities:*Schooling ring 20 m x 20 m Where we provide the riding lessons for beginners andwhere we excercise our horses on a daily basis. *Menage 20 m x 60 m – For advance riding level. *Electric paddock 40 m x 40 m.*Night illumintaion on the menage and the schooling ring. *Horse showers *Tack Room*Toilets *Covered area for parties/functions etc…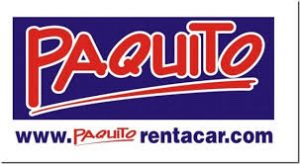 Avda. Jesús Navarro Jover, 23 CP 03660 Novelda (Alicante)
00 34 965 602 431 / 00 34 965 624 293 / 00 34 670 076 299
elenovel@paquitorentacar.com
From Monday to Saturday from 9am to 9pm